Epica Awards 2016: Grand Prix voor Next Rembrandt

nieuws Nederland heeft een van de vijf Grand Prix in de wacht gesleept bij de 30e editie van de Epica Awards, die donderdag werden uitgereikt in de Amsterdamse zaal Panama. ING en J. Walter Thompson Amsterdam wonnen de hoofdprijs in de categorie Digital met de succescase 'The Next Rembrandt'. Ook België, Frankrijk, Noorwegen en het Verenigd Koninkrijk konden een Grand Prix bijschrijven.
Bureaunetwerk van het jaar is Leo Burnett, met 49 awards waaronder 12 keer goud. Bureau van het jaar is BBDO New York, dat negentien keer in de prijzen viel, inclusief één gouden Epica. Het beste onafhankelijke bureau is TRY uit Noorwegen, dat negen keer won (vier keer goud). Traditiegetrouw won de VS het landenklassement, met 69 geïncasseerde prijzen.
Dit  zijn de Grand Prix-winnaars van de Epica Awards 2016: 
DESIGN: "Simplified stories" by DDB Brussels for Alzheimerliga 
DIGITAL: "The Next Rembrandt" by J. Walter Thompson Amsterdam for ING 
FILM: "Kenzo World" for Kenzo World Eau de Parfum by Kenzo Parfums, France 
PRESS: "Brad is Single" by TRY for Norwegian Airlines 
OUTDOOR: "Doors of Thrones" by Publicis London for Tourism Ireland 
Juryvoorzitter Norman Pearlstine, Vice Chairman van Time: 'The remarkable range of entries reminded us that culture and commerce are not incompatible, and that this is a global industry where there is no monopoly on creativity or on great work.'
Epica's allereerste Design Grand Prix ging naar DDB Brussels dat een bijzondere publicatiemogelijkheid ontwikkelde voor Alzheimer-patiënten. Peter Ampe, Chief Creative Officer van DDB Brussels: 'It's great to see Epica rewarding creativity as a force for good. Journalists are known to be more critical than anyone else – that's what makes winning an Epica so special.' 
Tweede Grand Prix op rij voor JWT
'The Next Rembrandt' won al veel andere prijzen, maar dat stond geen hoofdprijs bij e Epica's in de weg. JWT's creative partner Bas Korsten: 'We're so thrilled and proud, winning the Epica Grand Prix for the second year in a row! Especially because it is judged by some of the leading journalists in our industry. It's a great honour. And since The Next Rembrandt owes much of its success to the press writing about it like they did, we would like to thank everyone who has engaged with this campaign – especially the journalists.'
Kenzo greep de Film Grand Prix met een letterlijk 'eye-popping spot for its new Kenzo World perfume that featured a bored model freaking out and performing a bizarre dance inside a deserted theatre'. Een huzarenstukje van regisseur Spike Jonze. Patricia Tranvouëz, CEO van Kenzo Parfums: 'We're very touched and extremely proud of this project, which is the first we've worked on with Carol Lim and Humberto Leon – artistic directors of the Kenzo fashion house. The project brought together great artists like Spike Jonze, Ryan Heffington, Sam Spiegel and of course Margaret Qualley, whose talents as a ballerina and actress burst out of the screen. Thank you to my entire team, who made this project a priority and brought it to fruition.' 
'Brad Pitt is single!'
Het Noorse bureau TRY won de Press Grand Prix met een inhaker op de scheiding van het acteurskoppel Brad Pitt en Angelina Jolie. Dat vertaalde zich in de tagline: 'Brad Is Single. Los Angeles one way from £169.' Norwegian Airlines scoorde hiermee extreem veel free publicity.  
Susanne Hovda en Marius Aasen, het creatieve team van TRY: 'A big thanks to everyone involved for moving fast, and for having the guts to go for this idea. Winning a Grand Prix is beyond what we ever expected. It's like booking tickets for only £169, and realising that you actually have really good leg space. An amazing feeling.'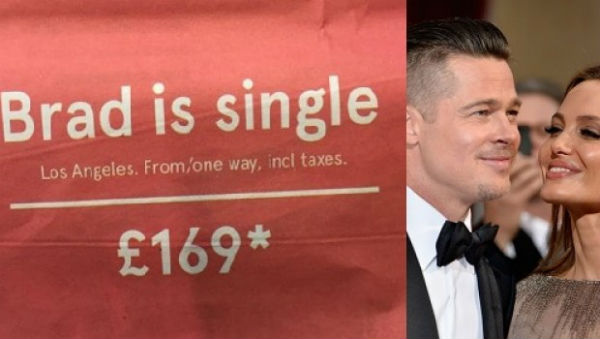 The Outdoor Grand Prix ging naar Publicis London voor een ongebruikelijk initiatief waarbij omgevallen bomen op de filmset van Game of Thrones een nieuw leven krijgen als hand-carved deuren die scènes uit de tv-serie uitbeelden. Door ze te installeren in Ierse pubs werden dit toeristische attracties. 
Dave Monk, Executive Creative Director bij Publicis London: 'Who'd have thought combining two of our favorite pastimes – pubs and Game of Thrones – would help us pick up an Epica Grand Prix? We feel hugely honored. It also feels all the more significant because it was voted for by a jury outside our usual advertising bubble. So huge thanks to them. Also to our client, Tourism Ireland, and everyone involved in the campaign, as well as a respectful doff of our helmets and swords to the craftsmen and women who created and carved out the idea so brilliantly.'
Dit jaar ontving Epica in totaal 3.800 inzendingen uit 66 landen, een groei van 2% ten opzichte van vorig jaar. Nieuw of terug waren landen als Wit-Rusland, Namibië, Estland, Taiwan en Nieuw-Zeeland. Bekijk alle winnaars op Epica-Awards.com.
comments powered by Disqus
Nieuwsbrief
Mis niets! Schrijf je nu in voor de nieuwsbrief.
Laatste reacties
Word abonnee en ontvang:
✔ 22 keer per jaar MarketingTribune Magazine
✔ Korting tot wel €100,- op events
✔ Gratis tablet versie
Event