Keynote DDC Alexander Robertson: Customers demand a seamless experience
B2b
23 jan 2018 @ 11:51
7515 x gelezen

Sjaak Hoogkamer
hoofdredacteur
MarketingTribune
23 jan 2018 @ 11:51
7515 x gelezen
Alexander Robertson from Adidas is responsible for defining and managing research and analysis to create data- driven insights about consumer behavior. He is one of the keynote speakers at the Data Driven Commerce Event on February the 8th.
How important are data for Adidas and why?
'I truly think data is essential for every organization and adidas is no different. At adidas, we realize that if we want to be close to the consumer and break the digital barrier it is crucial that we are data-driven and develop a clear structured way to capture, analyze, predict and ultimately influence consumer behavior. Without the correct data in place, all of our decisions would be based on instincts and opinions. The importance of data is due to the fact that when the numbers are available and understood by everyone in the organization and the data supports the strategy, it becomes difficult for anyone to argue with the approach. Another reason why is data is vital, is for building an improved relationship with consumers whether they may be a personalized experience or in general just knowing their interests. Finally, data is important for us at adidas so that it can reinforce possible hypothesis' and lead to optimizations and incremental business impact.'
Are marketers involved enough already when we talk about data/big data? I always get the feeling they talk a lot about data, but there's little to none action to use them properly.
'I totally agree, data seems to be have become a buzzword and be on everybody's lips these days. Ultimately, everyone wants as much data as they can get their hands on. In my opinion, the struggle is that many organizations have such large volumes of data at their disposal but interpreting the data and being able to drive actionable insights out of the data is far from trivial. I still feel like marketers have only scratched the surface of what is actually conceivable with the correct usage of data. I believe numerous companies suffer from the abundance of data which is not actionable. This data is neither usable or useful. This can occur for a variety of reasons: it might be that the data may not be usable because it was collected poorly and so resulting in data which has major flaws in reliability,  it might be because it does not answer the question it's collection set out to ask or even because stakeholders do not have the time to consider it and use it. For this reason, I think being able to prove that the data is delivering insights and business value is one of the key measures of a truly data-driven organization.'
What are in your view the next steps in using data to ensure a better client review and client satisfaction?
'Today delivering a faultless customer experience is imperative . The problem is to do so, you require data – the more the better. Having said this, identifying the correct data to model, predict, and improve performance across all touch points is one of the most arduous challenges facing organizations today. Our ability to reshape the customer experience and marketing content in real-time is absolutely critical for organizations nowadays to start resonating with consumers and driving results, but equally as important is having the agility in redirecting what you are doing with customers based on real-time insights and experimentation that help to be more precise with the allocation of precious resources to drive measurable impact. In the end, using data for a better customer satisfaction will be the result of combining multiple data sources together and trying to connect all the dots on the path to being as consumer-centric as possible.'
What is the biggest challenge for marketers in 2018 and further?
'I truly believe that attempting to close the customer experience gap is the biggest challenge facing marketers in this day and age. In today's hyper competitive economy, consumers' attention span is far shorter than it used to be. Customers demand engaging content, but also a seamless experience and personalized to them – based on where they are and what they're doing in that exact moment. To be able to truly differentiate, it is essential that marketers obtain real-time data, and they need to be able to answer the following question: "how can I re-adjust what we're putting in front of customers in to give them the best possible experience in the moment?" The reality is the touchpoints with customers are constantly changing, as is their behavior. These behavioral changes often happen way faster than any company can react to it. This means that the role of marketers today isn't just about delivering storytelling that resonates with consumers, but also what insights we can derive from the data on customer experience, where it's working and where it is not and how we can effectively change it to demonstrate ROI on our investment.'
Tickets voor het Data Driven Commerce Event op 8 februari in Maarssen zijn hier te koop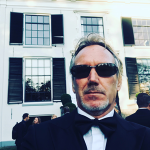 Nieuwsbrief
Mis niets! Schrijf je nu in voor de gratis nieuwsbrief.
Laatste reacties
Word abonnee en ontvang:
✔ 20 keer per jaar MarketingTribune Magazine
✔ Korting tot wel €100,- op events
Meest gelezen
MarketingTribune | Vacatures
Dé plek voor een nieuwe stap in je carrière! Ontvang nieuwe relevante vacatures direct in je inbox:
MarketingTribune Events