[interview] M&C Saatchi Sport & Entertainment gestart in Amsterdam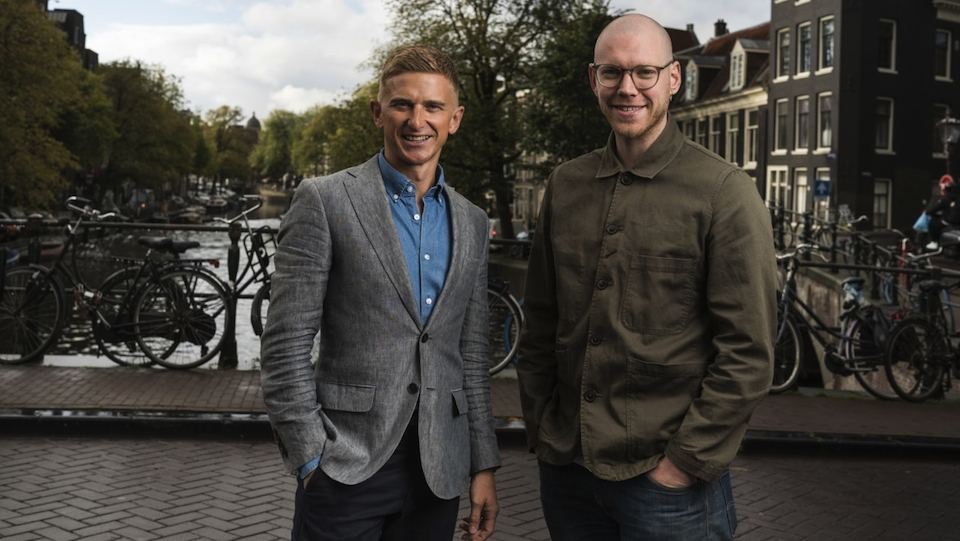 Bureaus
16 mrt 2020 @ 08:06
15006 x gelezen

Peter van Woensel Kooy
senior redacteur, merk-expert
MarketingTribune
16 mrt 2020 @ 08:06
15006 x gelezen
Toan Ravenscroft en Jasper Hunter (r.) leiden het net gestarte bureau M&C Saatchi Sport & Entertainment aan de Keizersgracht 8 in Amsterdam. MT woonde de opening bij en stelde de Britten -in het Engels dus- vragen over klanten als Heineken en Reebok, ambities en hun nut voor marketeers.
Please introduce yourself. Since when are you involved with M&C Saatchi.
'Hi, thanks so much for talking with us! We are Toan Ravenscroft and Jasper Hunter and we are the Managing Partners of the newly opened M&C Saatchi Sport & Entertainment office in Amsterdam. Toan joined M&C Saatchi Sport & Entertainment in London in 2013 and Jasper was previously a Strategy Director & Head Of Innovation at M&C Saatchi in London for six years, we each moved to Amsterdam in 2018 and 2019 respectively. We announced our plans to launch in October and we have been live as an agency since January. .  
Please introduce the agency. What's the difference with Saatchi & Saatchi, to inform our younger readers?
'M&C Saatchi Sport & Entertainment is a multi-award winning, full-service agency that specialises in sponsorship activation and passion point marketing. We are experts in connecting brands with audiences via the things they love – sport, music, film, the arts – with specialists delivering in specific disciplines, such as rights management & activation, PR, creative & content, experiential and a full service video & design studio.
We have offices in London, New York, Los Angeles, Sydney, Johannesburg, Berlin and are now very excited to be here in Amsterdam.
M&C Saatchi was formed in 1995 by the driving forces behind Saatchi & Saatchi. M&C Saatchi was launched with a different mentality to the other big network agencies and a ruthless focus on brutally simple ideas. M&C Saatchi Sport & Entertainment followed 15 years ago and has been at the forefront of an evolving agency and marketing landscape as the worlds of sport, entertainment and marketing came together, the traditional advertising agency model came under pressure and sponsorship became an increasingly powerful marketing tool.' 
What is so interesting for marketers about your specialisation sports & entertainment? Is this a big category?
'We have seen an ever-increasing focus from marketers on connecting to their target audiences through the things they love. We know that consumers are more likely to consider, prefer and stay loyal to brands that are aligned with their own passions, so there is an inherent power for brands when they connect via sport, fitness, film, music, the arts.
We are also seeing a confidence in sponsorship across businesses as smart marketers look for ever more valuable and creative ways to differentiate themselves and deliver cut through. We feel very well positioned and experienced in unlocking the best way for brands to integrate seamlessly with fans, work alongside rights holders to get the most out of their partnerships and bring an innovative approach to deliver stand out creative ideas and true measurable impact. Our experience in this space globally, coupled with local expertise and an appetite to innovate means we can deliver campaigns in the Netherlands, Benelux, regionally and globally.' 
You wrote to us about your 'Capital C' work out. Please explain? Will this be repeated and can people join?
'In January 2020, just two weeks after opening, we created a truly unexpected workout activity for one of our founding clients - Reebok. They tasked us with creating an unexpected moment to launch 24 hours of workouts for the fitness community in collaboration with their partner Vondelgym.
We delivered a unique rooftop workout in the spectacular newly opened Capital C – which provided a stunning Amsterdam backdrop that none of our media and influencer attendees had seen before.
The unexpected theme was extended via a workout generator as influencers & media pushed a button to find out the next exercise in the workout, led by Arie Boomsma and Dennis Toppin.
Before it all started we created social engagement by seeding influencers with kit in a box that was locked - with a GIF code shared 24 hours ahead for them to unlock and share the surprise. It was a great way for us to start the year, building great supplier relationships and a big impact for our client to launch a new brand platform and a product in one. 
It was the second year of the event and people could register to take part in classes throughout the next 23 hours - so fitness fans should keep their eyes open for more updates and more events through the year.'
You call 2020 a really exciting year in sport and sponsorship with Zandvoort Formula 1 -you are working with Heineken on this- and Euro 2020. What are your services concerning these events?
'2020 feels like a great time to be launching. The Heineken Dutch Grand Prix promises to be a really special return for F1 and a great focus for all sport fans and a lot of brands. We have some exciting plans in development around Zandvoort - where our remit covers global PR activation, something we have worked on with Heineken since 2018. 
With regards to Euro 2020, we are working with Heineken's global sponsorship team on creatively activating their rights – which covers everything from fan zones and fan villages during the tournament and LED pitch boarding exposure to digital rights, Man of the Match presentations, match screenings and ticket giveaways. We are very excited about our plans around 'Man of the Match', so that will be one to look out for this summer across the 12 host venues – including at the Johan Cruijff ArenA here in Amsterdam.'
What do you like about Amsterdam?
'So far, everything! From an agency perspective the creative standard is very high, there is a great community of suppliers or partners that are keen to collaborate and a well-established group of brands. There is also a very strong international outlook. So we feel there is a brilliant opportunity to deliver innovative, impactful work.
From a personal perspective we are inspired every day and it's a privilege to have the opportunity to live and work in this great city. Hopping on our bikes to a meeting with Heineken, meeting our Reebok clients for a workout at Highstudios or simply meeting & learning from the close-knit community here has made the first few weeks very enjoyable and we are excited for what the future holds. 
What are the goals for M&C Saatchi Sport & Entertainment Amsterdam this year? What you would love to establish here?
'We have a brutally simple approach in the first year - to do some great work for our founding clients: Heineken and Reebok.
We are very lucky that the Heineken Global Sponsorship team has chosen to work with us across the UEFA Champions League, UEFA Euro 2020, Heineken Champions Cup rugby and World Rugby, as well as in Formula 1 with the Global PR team – and Reebok Benelux through PR, experiential activations and content production so we have a great basis.
We want to bring in the best local talent and be known for delivering first class work that elevates sponsorships beyond simply delivering against the rights package and truly understands how to connect via the things people love, whilst being brilliant to work with.
So our focus will be on that, as we believe success will follow if you get that right. Of course we have big ambitions this year and a plan for where we want to take the agency here with a longer term view as we believe more and more brands will look to deliver cut through with smarter, harder working sponsorships.'

tekst: Peter van Woensel Kooy

Meer info, klik hier
Peter van Woensel Kooy

Werkt bij: MarketingTribune
Functie: senior redacteur, merk-expert
Nieuwsbrief
Mis niets! Schrijf je nu in voor de gratis nieuwsbrief.
Laatste reacties
Word abonnee en ontvang:
✔ 20 keer per jaar MarketingTribune Magazine
✔ Korting tot wel €100,- op events
Meest gelezen
MarketingTribune | Vacatures
Dé plek voor een nieuwe stap in je carrière! Ontvang nieuwe relevante vacatures direct in je inbox:
MarketingTribune Events
Whitepapers