Epica Creative Circle workshop Ravid Kuperberg: 'Finding the divine trinity'
Bureaus
25 okt 2019 @ 08:41
17056 x gelezen

Sjaak Hoogkamer
hoofdredacteur
MarketingTribune
25 okt 2019 @ 08:41
17056 x gelezen
Tijdens de Epica Awards week in Amsterdam worden op donderdag 21 november een aantal Creative Circles gehouden over het thema Building Brands In A Challenging World. Een van de workshops wordt geleid door Ravid Kuperberg van Mindscapes. 'Marketeers need to constantly find new ways to use new platforms, multiple platforms, to establish effective holistic storytelling.'
Hoe kunnen we deze tijd van onzekerheid ombuigen in een van nieuwe kansen? In deze onstabiele tijd van economische trends, disruptieve new business modellen, verschuivende consumentengewoonten en de spanning tussen creativiteit en technologie zien bureaus en merken zich geconfronteerd met vele uitdagingen.
Met de Creative Circles wil Epica een dialoog tot stand brengen tussen marketeers, creatieven, startups en innovatieve leiders om tot nieuwe purpose rijke ideeën te komen.   
Can you give a short introduction of yourself and Mindscapes? What challenges are you dealing with right now? 
Mindscapes is a training agency which helps people in brand communications utilize their creative thinking skills in a more efficient and effective manner. In a nutshell… our training programs suggest a unique methodology, which decodes innovative creative thinking by identifying recurring thinking patterns embedded in award winning ideas. Based on these patterns we suggest practical thinking tools for structuring new original ideas in a more organized efficient manner. A certain logic to magical process of creative thinking. In a more metaphoric explanation… the mind is like an infinite dark room filled with amazing creative ideas. Just lying there on the floor unseen, waiting to be bumped into and picked up. Sometimes it can happen in minutes and sometimes it happens after a long-complicated process. The Mindscapes thinking tools provide a beam of light directing the mind into specific thinking paths which help find hidden creative ideas in the darkness of your mind. Each different beam reflecting a different think path, leading to different forms of creative thinking.
The main challenge we are addressing these days, and… all days, is how to keep our thinking tools and methodology relevant and up to date. Addressing current issues and needs. For example: transforming valuable digital data into a creative drama. Or helping generate powerful StoryTeching beyond classical storytelling.
The mind is like an infinite dark room filled with amazing creative ideas. Just lying there on the floor unseen, waiting to be bumped into and picked up.
You are one of the Epica Creative Circles speakers. What's your presentation about in short and why should people come to listen?
The workshop is about achieving the ultimate goal for a brand communications campaign these days – "the Divine Trinity": delivering sustainable purpose + shared value + branded content on multiple platforms. Reaching such a trinity usually involves a combination of macro and micro creative thinking, using inventive and creative thinking capacities. I will talk about how this can be done using specific structured thinking paths.
Why should people come? For free practical creative thinking tools which have been proven to be fertile in creating award winning ideas, more than 35 Cannes Lions winners in recent years. Tools which can help make sense out of creativity in the hectic multi-platform brand communications reality we operate in today. It's better than free alcohol!!! Or maybe not…
How would you evaluate the Epica Awards in the overall global award scene?
It definitely has a unique flavor. I think it provides an important additional prism on creative excellence. And provides an exceptional practical experience to attendants.
What would you consider is the biggest challenge for marketeers nowadays?
Constantly re-inventing storytelling. Specifically, the telling part. 'Marketeers need to constantly find new ways to use new platforms, multiple platforms, to establish effective holistic storytelling. Addressing new generations of consumers with constant rapid changes in their behaviors and preferences. Another important challenge is managing stress and managing risks. Brands today need to release their complete control on the end creative outcome, while maintaining control of the end message delivered. They are required to deliver a message, while also delivering an outcome people engage with on the merits of its value as genuine content. And it's ability not just to be interesting, but also to make people more interesting. All in a reality where breakthrough thinking and minimal time to market for ideas are a necessity. Not easy at all...  
That's why I am such firm believer that structuring the way you think is an extremely valuable asset for marketeers these days.
Attention is a rare commodity at the moment. How can brands draw attention of consumers?
I would say that aiming to get their attention is… not enough to get their attention. Brands should aim to get people emotionally invested, not just engaged, in their campaigns and ideas. Providing platforms and roles which help people make a difference and become interesting – to others and to themselves. Aspiring to achieve the "Divine Trinity" is exactly what this all about. Less than that might result in a lesser chance to gain attention. And even the divine trinity cannot always deliver. Free alcohol on the other hand…
Who is Ravid Kuperberg?
Partner and structured creative thinking trainer in the field of brand communications, working with numerous advertising agencies and brands around the world. Ravid is a former advertising professional with 14 years of experience in strategic and creative development. Starting off as a strategic planner before becoming a copywriter and later on a creative director. He is a frequent keynote speaker and trainer at international marketing conferences and advertising festivals, including recurring appearances at the prestigious Cannes Lions Festival in recent years. Most important of all (for Ravid), he is also an aging goalkeeper at a local amateur football club.
Kaarten voor de Creative Circles zijn hier te koop.
Photo by: Al Nicoll for Gallo Images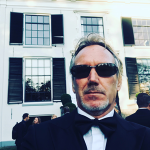 Nieuwsbrief
Mis niets! Schrijf je nu in voor de gratis nieuwsbrief.
Laatste reacties
Word abonnee en ontvang:
✔ 20 keer per jaar MarketingTribune Magazine
✔ Korting tot wel €100,- op events
✔ Gratis tablet versie
MarketingTribune | Vacatures
Dé plek voor een nieuwe stap in je carrière! Ontvang nieuwe relevante vacatures direct in je inbox: